1831 Riot!
Creative Directors Liz Crow and Ralph Hoyte
Audio installation using wireless satellite technology 2004
With transcription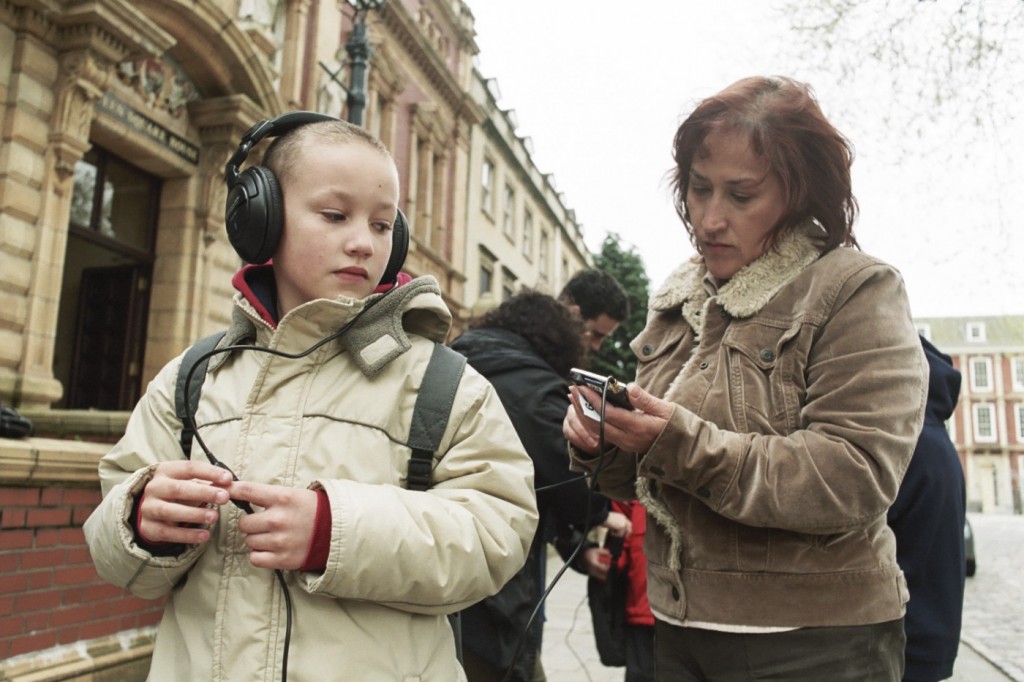 About
It's 1831 and there's a riot going on! Bristol is a tinderbox. The spark is Sir Charles Wetherell, widely loathed for portraying the city as anti-Reform, and come to open the Assizes. The people are rising up and thousands have filled Queen Square to demand the vote. Faced with civil disruption and carnage, Mayor Charles Pinney and the commanding officer, Colonel Thomas Brereton, are at a loss for how to act. Each waits on the other to be decisive. All the while, the riot is escalating.
Based on the historical Bristol Reform Riots, 1831 Riot! is an audio installation, a world-first voice-play for mobile computer technology. Each scene is written for a specific location within Queen Square. As visitors move around the square with a GPS-connected mobile computer and headphones they access one of the multiple scenes allocated to that location. In this way they become immersed in the riots in the very place were they took place more than 170 years before.
1831 Riot! has been commissioned as one of the flagship projects of Mobile Bristol, an ongoing research project run jointly by Hewlett Packard Laboratories and University of Bristol to push the creative boundaries of mobile computer technology and to test users' responses beyond the laboratory and into the streets.
Awards
Finalist with Hewlett Packard's Mobile Bristol, Computing Awards for Excellence, 2004
Shortlisted,  New Statesman New Media Awards, 2005
Credits
1831 Riot!

Written, produced & directed by
Liz Crow & Ralph Hoyte

Sound designer
Armin Elsaesser

Cast
Chris McCalphy
Tim Prior
Ben Tinniswood
Peter Townsend
Leona Walker
Christine West

Musicians
Stefan Hoyte
Simon Toomer

Project originator
Ralph Hoyte

Mobile Bristol Team:

Project Manager
Jo Reid

Software Architect
Richard Hull

Authoring Tools
Ben Clayton

Logic Implementation
Kirsten Cater

Supported by:
DTI
Mobile Bristol
HP Labs
University of Bristol Computing Department
Appliance Studio
Yucca Media
Press
"The first ever located radio play, designed to unfold as you walk around Queen Square"

Guardian, 25 March 2004

"If you think history and technology don't mix, this might just change your mind."

BBC Points West

"I felt I was in a world of my own and when someone rushed over to me and told me walk in the middle of the square he made me jump and I thought 'who's this strange person?' because I felt I was in another world."

Audience member

"Oh it's good because otherwise you walk here and you say oh a very nice Square, a statue, and you would sit on a bench and take a picture and then you would move on. Whereas now you see that it is filled with history."

Audience member

"Yeah, there's one thing to read about something and see pictures, but when you actually hear the pain and the anguish and a bit of the gore that went along with it, it makes you think, well this actually happened."

Audience member
Campaigns & Resources
A narrative of the dreadful riots and burnings: which occurred in Bristol, Printed by P. Rose, 1831
Caple, J (1990) The Bristol riots of 1831 and social reform in Britain (Lampeter: Edwin Mellen)
Macdonald, P (1995) Hotheads and heroes: the Bristol riots of 1831 (Petmac Publications)
Thomas, S (1999) The Bristol Riots (Bristol Branch of the Historical Association, University of Bristol)
Trial of Charles Pinney, Esq. in the Court of King's Bench, Blackwood, 1833
Sparticus educational materials about the 1831 riots
I predict a riot, The Guardian
To cite this page: Crow, Liz & Hoyte, Ralph (2005) 1831 Riot!, Roaring Girl Productions [online] [Available at: http://www.roaring-girl.com/work/1831-riot/] [Accessed 21/09/2023]